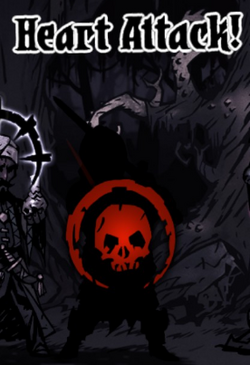 When a hero is driven beyond their limits of stress, they will suffer a heart attack. This can spell a quick death for those who mismanage their party's stress levels.
Effects
[
]
Heart attacks are guaranteed to occur if your hero reaches the maximum value of 200 on their Stress Bar while Afflicted. Heart attacks immediately drop a hero's Health down to 0, placing that hero on Death's Door and reduce their stress to 170. If they are already at 0 health when the heart attack occurs, the heart attack will kill the hero instead, disregarding Death Blow resistance. If your hero is currently Virtuous, they will not suffer a Heart attack, and instead lose the Virtue and reset to 0 Stress.
If a hero is brought back from Death's Door after suffering a heart attack, in addition to the Death's Door Recovery debuff, they will receive a Heart Attack debuff for the rest of the quest:
-3 ACC, -10% DMG, -2 SPD, +15% Stress
Heart attacks are similarly lethal, and are the end point of a Stress-focused team. Virtuous Heroes in this game mode will experience heart attacks normally like non-Virtuous ones, but will never lose their Virtue at 200 Stress.
Barks
[
]
Heroes suffering a Heart Attack emit a unique bark right before it occurs. There is one different bark for each Affliction, in addition to one general bark that any Afflicted hero may use.
| | | |
| --- | --- | --- |
| " | IT IS UNBEARABLE! | " |
| | ~ An afflicted hero moments before suffering a heart attack. | |
| | | |
| --- | --- | --- |
| " | THE SHADOWS COME FOR ME AT LAST! | " |
| | ~ A fearful hero, moments before a Heart Attack. | |
| | | |
| --- | --- | --- |
| " | I KNEW IT! | " |
| | ~ A paranoid hero, suffering a Heart Attack. | |
| | | |
| --- | --- | --- |
| " | I COULD NOT BEAR THIS BURDEN! | " |
| | ~ A masochistic hero, moments before suffering a heart attack. | |
| | | |
| --- | --- | --- |
| " | I SHOULD KILL YOU ALL! I SHOULD— | " |
| | ~ An abusive hero, before collapsing from a Heart Attack. | |
| | | |
| --- | --- | --- |
| " | WHY DID I LET MYSELF COME TO THIS... | " |
| | ~ A selfish hero suffering a Heart Attack. | |
| | | |
| --- | --- | --- |
| " | ALL IS LOST... | " |
| | ~ A hopeless character before collapsing from unbearable stress. | |
| | | |
| --- | --- | --- |
| " | THE MYSTERY, AT LAST! | " |
| | ~ An irrational hero suffering a Heart Attack. | |
| | | |
| --- | --- | --- |
| " | I've failed...I cannot bear it. | " |
| | | |
| --- | --- | --- |
| " | The burden... It's too much! | " |
| | ~ A rapturous Flagellant suffering a heart attack. | |
| | | |
| --- | --- | --- |
| " | THE STARS CALL FOR ME!!! | " |
| | ~ A refracted character collapsing from a heart attack. | |
| | | |
| --- | --- | --- |
| " | FIGHT TO THE LAST BREATH! | " |
| | ~ A focused hero getting a heart attack. | |
| | | |
| --- | --- | --- |
| " | I WILL SURVIVE THIS! | " |
| | ~ A vigorous character right before a heart attack. | |
| | | |
| --- | --- | --- |
| " | THIS ISN'T OVER! | " |
| | ~ A powerful hero suffering from a heart attack. | |
| | | |
| --- | --- | --- |
| " | I WILL FACE MY FATE! | " |
| | ~ A courageous hero suffering a heart attack. | |
| Image | Name | Description |
| --- | --- | --- |
| | The stresses were unbearable... | Lose your first hero to a heart attack |
| | Scare Tactics | Cause an enemy hero to have a heart attack |
| | Pacemaker | Have a single hero survive 4 heart attacks in a single match |
| | Be Still My Heart! | Cause 150 heart attacks in the Butcher's Circus |
See Also
[
]